Building Relationships In Business is Key
CEO Business Visits
CEO Guest Speakers
---
Making You Wright at Home
Wright's Furniture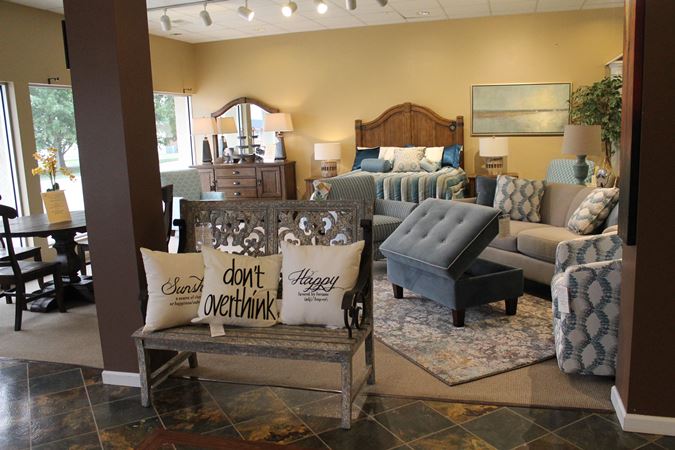 CEO enjoyed hearing the 127-year-old family business history of Wright's Furniture and Flooring. CEO appreciated the advice Tom Wright gave them about the importance of being a volunteer in their community and his personal passion behind his involvement building the business through the years. John Wright shared that he wished he could have experienced something like CEO when he was 17 and was appreciative that his two children were in CEO. Both Tom and John Wright provided CEO a wonderful tour that not only allowed the students to walk through their beautiful showroom, but talked about building relationships with their customers, how social media was impacting their business and how successful their floor covering has covered the miles and miles of their residential and commercial clients. The class was also able to meet Karen Brumleve their Sales Manager who does a wonderful job building relationships with clients who return again and again for her design advice and expertise. 
Be sure to check out the video at the top of this post on their unique table currently on their showroom floor that goes from a table to a bookshelf in seconds. They also have a design showroom in Effingham called Wright At Home Interiors. 
---
CEO Greeters at Kick Off to Education Breakfast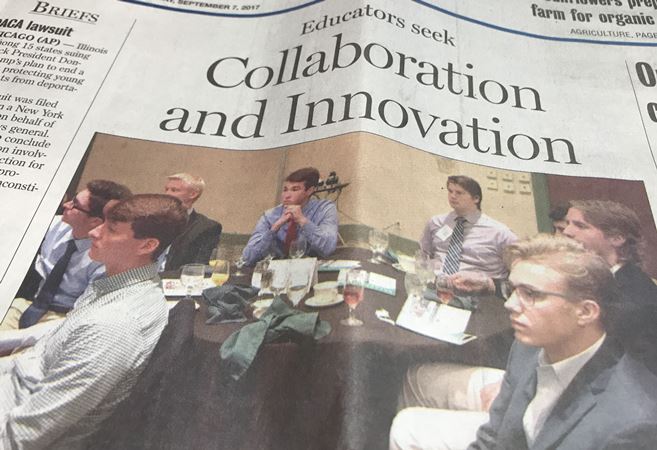 CEO served as greeters for the Effingham County Chamber Kickoff To Education Breakfast held last week at the Keller Convention Center. The timing of this invitation could not have been more perfect, since CEO has been spending the last two weeks working on hand shakes and eye contact. Attending this event provided a wonderful venue for students to step out of their comfort zone and meet the community of Effingham County. A few students where even able to speak with their elementary teachers who attended the breakfast. Kaleb Whitt from the 2018 CEO Class led the pledge to start the morning program. 
A huge thank you goes out to the Effingham Chamber for inviting our classes to greet those who are making a difference in our schools and community. 
---
Art of Thank You Notes
Madalaine McDaniel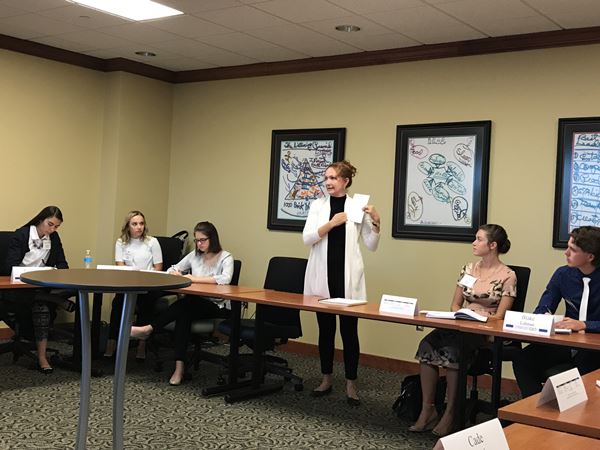 Madalaine McDaniel gave excellent details on how to write a Thank You note. In CEO, we talk about the importance of being grateful and one way we demonstrate this is through sending a Thank You note to our speakers and business tour guides. Mrs. McDaniel said that this is a great business tool that will set you apart and a great way to build business relationships too! She was encouraged by her mother from the time she was a young girl to write Thank you notes to others throughout her life. We are thrilled that she took this art of writing to heart, so she could share it with CEO. 
Please check out her website www.LakesideTable.com. You will enjoy her delicious recipes and beautiful blog posts. 
---
Student Journal Highlights for this week
"I actually thought I knew how to write a thank you card perfectly until Mrs. McDaniel gave us many neat tips that I didn't know before! I learned that focusing on intention and lengths of thank you notes are important. In the past, the only times I would write thank you cards were for my relatives after I received gifts from them. Now I know that I should send them more often, because it's nice to show appreciation and who doesn't like receiving a thank you card?"

Reese Buenker
Thursday, September 7, 2017Learn More About Reese
"Wednesday, September 6, 2017, was the Chamber of Commerce breakfast that we were invited to. For myself, it was not difficult to greet people as they came in. I think that the breakfast was a good experience for the class to be able to practice the soft skills we have been learning in an environment besides our classroom. It was also neat to learn what other schools in the area are doing. The best part about the breakfast experience was obviously the food itself. I enjoyed the talk that we had on Thursday about this event. We went over some things that I am definitely going to keep in the back of my head for the CEO Experience."

Jillian Allen
Monday, September 11, 2017Learn More About Jillian
"At Wright's Furniture and Flooring in Dieterich, it was interesting to see their approach at business. Being in a small town, they have to make sure that they have returning customers that also tell others about their business. They are very interested in establishing a relationship with the customers, and they care a lot about the customers needs."

Truman Rhodes
Wednesday, September 13, 2017Learn More About Truman
---