A Room Filled with Endless Possibilities and Creative Business Ideas
CEO Business Visits
CEO Guest Speakers
---
Blogger, Podcaster & Marketing Ninja
Alexis Teichmiller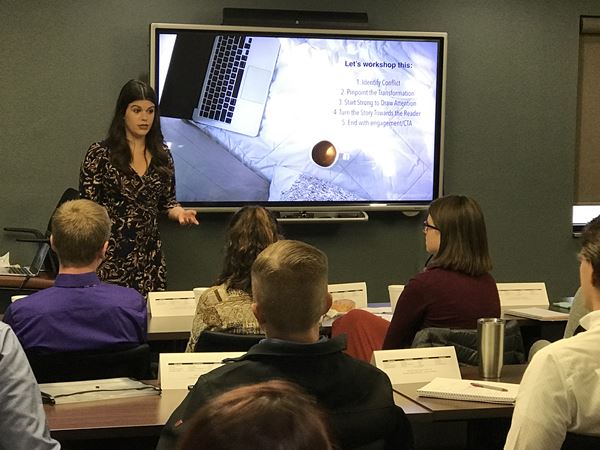 Alexis Teichmiller was in the CEO Class in 2011, where she wrote a book Investing In Human Capital  about her experiences in the program, and has been living out the class's teachings ever since.
After graduating high school, Miss Teichmiller traveled with Mr. Lindvahl to different communities around the country to talk about her book, and was considered the product of CEO. While in college, she began the clothing company A.T. Avenue, and got to see the business world first hand. Since then, she has used this work experience to create her successful career.
She now works for an email marketing company called ConvertKit, and runs her own blog and podcast called Laptop Lifestyle. During her time with the class, she taught the students to be personable, and to connect with other business professionals instead of trying to impress them. She made a great impression on the class and inspired all of the students to think about their future careers and businesses.
---
Burkland Florist and Gifts Now a Gold Crown Hallmark Store
Kay Spruell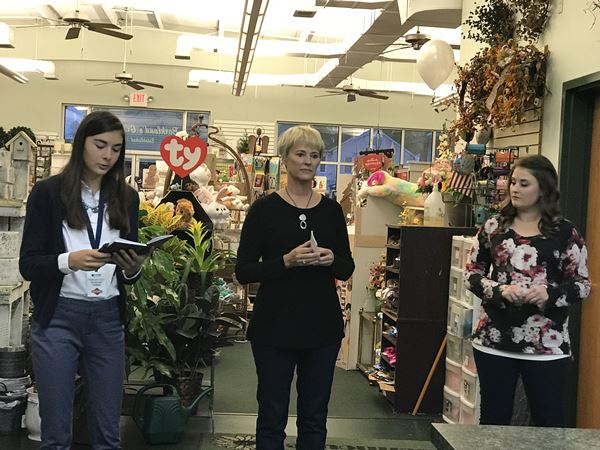 Burklands Florist and Gifts flourishes with creativity and hospitality. For twenty-one years, Kay Spruell has collaborated with her talented staff to design beautiful centerpieces. Burklands recently became a Gold Crown Hallmark store. This is very exciting for those of you who enjoy collecting Hallmark Christmas Ornaments each year.  Every space is covered with the latest Christmas ornaments, glass angels, wind chimes, and more.
Mrs. Spruell purchased Burklands when she moved back to her home-town. Kay along with her daughter Shelby Dasenbrock and her talented team maintain the small-town business feel by providing friendly and affordable service. The class enjoyed learning about the display creation process and exploring the store's many shelves. Burklands plans to continue to brighten the community with colorful flowers and fun Hallmark products. 
---
Meet Your Mentor Day Arrives with much Anticipation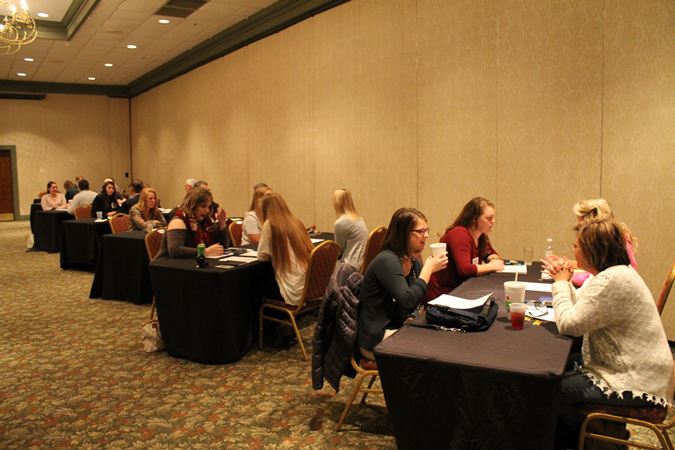 There was much enthusiasm as the protégés prepared for the next opportunity that CEO offers; their mentors. At this first meeting, the protégés had the opportunity to learn more about the mentor that each was paired with. Throughout the class, the protégé can use their mentor as a sounding board and as a network as they start to brainstorm and create their personal businesses. One student noted, "It was amazing to be able to finally meet our mentors. We have all been excited about this aspect of CEO, and talking to our mentors today brought that excitement to life."
---
Student Journal Highlights for this week
---