The Wisdom of Seasoned Business Owners
CEO Guest Speakers
---
Dean Samuel Brought a Special Guest to CEO
Special Guest Dick Blaudow brought to class by Mr. Samuel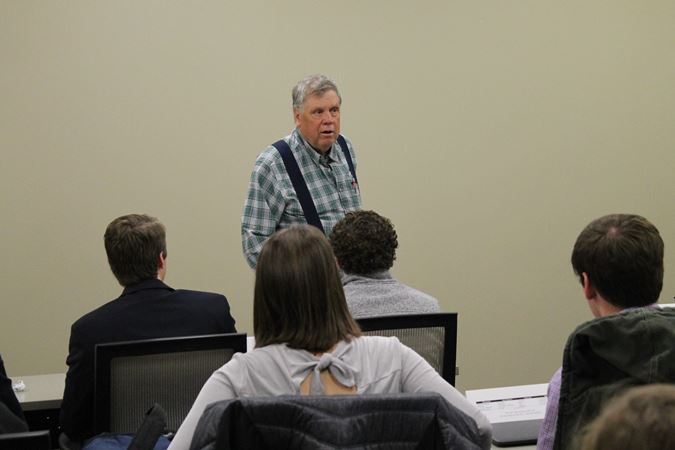 Taking over his family's company, Samuel Music, Dean Samuel has gained an abundance of experience and knowledge throughout his life. On Tuesday, the Effingham CEO class had the privilege of also hearing from his good friend Dick Blaudow from Advanced Technology Services, Inc.
Both men spoke about the wisdom they have gained from their many years working in the business world, and shared their own tricks of the trade with the class. The students learned to take advantage of the opportunities presented to them and not to quit until the job is done. CEO hopes to hear from Mr. Samuel and Mr. Blaudow again and they look forward to using their advice in their own lives and careers.
Written by: Meg Deters
We would like to thank Samuel Family Foundation for being a Effingham County CEO Investor
---
A Look at Effingham Area Case Studies
Craig Nielson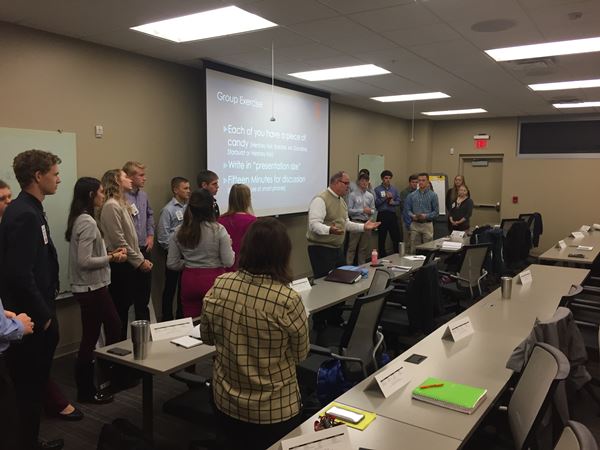 Craig Nielson, the President and CEO of the Effingham Regional Growth Alliance, is a wealth of knowledge about Effingham County and all of the businesses in the area. He was very eager to share this information with the CEO class this past week, opening their eyes to many situations in their county.
Mr. Nielson engaged the students in case studies that actually applied to problems that businesses in Effingham County have experienced. The students were asked to find ways to solve these problems without knowing if any business had actually gone through them. These cases allowed them to think critically and apply themselves to real life situations they may have to deal with in their professional lives, which is an invaluable skill to acquire.
Written by Megan Hodge 
---
CEO Ambassadors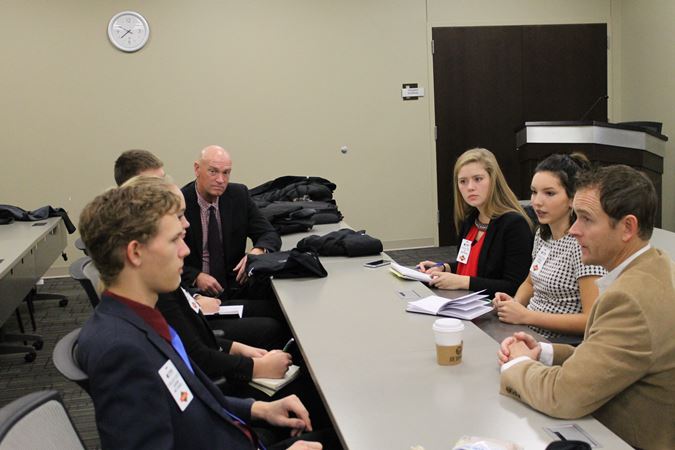 Do you ever wish you had a sounding board or someone you could share your ideas with and they would provide you immediate feedback? In CEO, we provide a mentoring group of business people who serve as Ambassadors for the students to use as a focus group for their class business and even their personal businesses.
It was an eventful morning by having the Ambassadors rotate among the marketing, sponsorships, registration, venue and speaker search teams. CEO gained a new perspective and rewrote a few of their game plans after consulting with these seasoned contributors who have attended past class business events.
A huge thank you goes out to all the Ambassadors for their time and advice given towards this year's class business plans. 
---
Student Journal Highlights for this week
"Dean Samuel's quotes that he handed us will be kept with me for years to come. Although short and simple, they each resonated a lesson that we could all relate to. Both he and Dick Blaudow were inspirational speakers and I would like to hear from them again. They believed in the value of hard work and dedication, and were good examples of it."

Madison Magee
Friday, November 17, 2017Learn More About Madison
"Mr. Craig Nielson discussed business scenarios and the importance of holding yourself accountable 100% of the time. The business decision scenarios were very fun and challenging. It was very interesting how he tied all of them back to businesses in Effingham, and the decisions those companies make. He also heavily emphasized the importance of being responsible all the time. If you are responsible for your actions, you become much more careful in your work and you put out a better product."

Jacob Guy
Wednesday, November 22, 2017Learn More About Jacob
---