CEO Experience Inspired, Educated and Entertained
CEO Business Visits
---
Photos of CEO Experience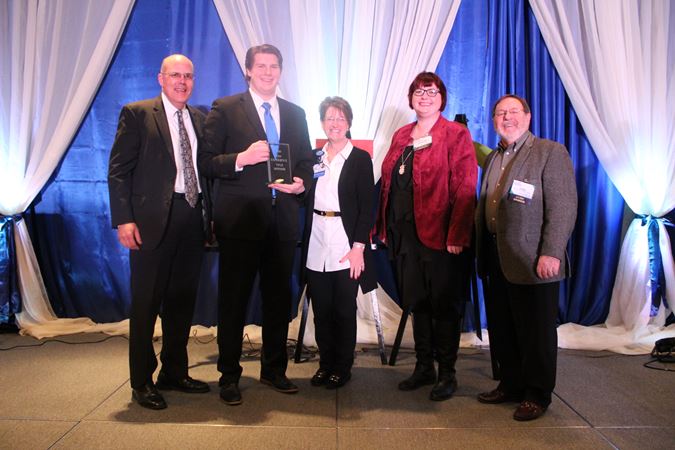 HSHS St. Anthony Hospital has been the CEO Experience Title Sponsor for the last two years and with their sponsorship and many more from our generous community this event would not be possible. The students this year wanted to extend an additional Thank You to the hospital by presenting them with a Crystal Award of Appreciation. 
Please enjoy the day in photos! 
---
CEO Experience Review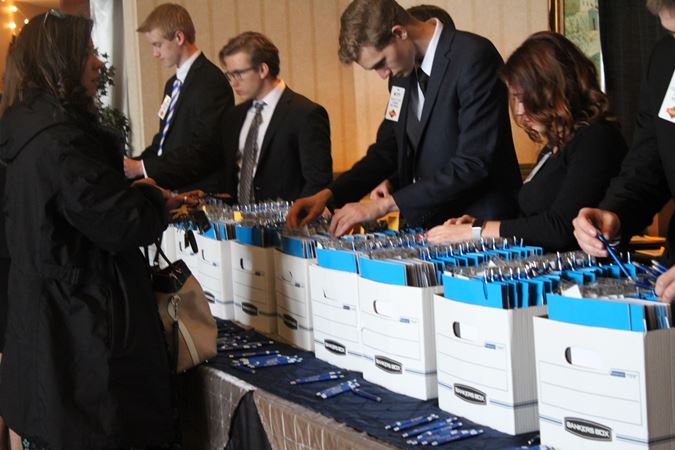 From chomping down on a pair of Billy Bob Teeth to wearing fake "buns" there was never a dull moment at this year's Experience. CEO Students have planned over the last several months to make this Experience a welcoming and valuable business conference. The Experiece and filled with lively stories from our keynotes Dr. Richard Bailey and Cordia Harrington. They lifted up the room with energy and pride. With every speaker having a connection with Effingham, it was an incredible testimony to the greatness of our community.
This year's Experience had a wide variety of breakout sessions:
Hearing the outstanding life story of German native, Peter Kollinger
Learning more about Emotional Intelligence with Tara Vandersande from Willow Creek Community
How to use social media to connect with your ideal customer from Alexis Teichmiller 2011 CEO Alumni now working for Convertkit
Having a better understanding how to bridge the generations in the workforce by team efforts of Diane Rieck and Jamie Rieck from Express Employment
Hiring the best fit for your company with Jennifer Vahling from Midland States Bank
Not only did the guests have an opportunity to add to their toolbox, but they had fun while doing so. 
Written by: Truman Rhodes
---
Stang Arts Brings Art To Our Schools & Community
Jamie Stang Ellis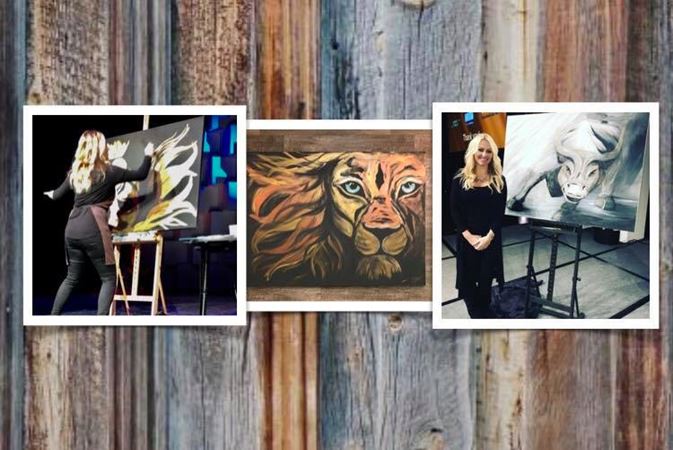 Jamie Stang Ellis is well known throughout Effingham County, but this week, the CEO students had the special opportunity to listen to her story and find out how she got to where she is now firsthand. She started drawing at the age of six and truly found her passion, which is what all the CEO students are thriving for, so it was inspirational to hear that that is possible and that they can find a way to live that passion out.
Jamie told the story of growing up in Effingham, moving to Panama City Beach, New Orleans, and eventually back to Effingham since she loved our community so much. She had so much life experince and so many stories that helped her to learn who she is and who she wanted to be. It was very exciting to hear about how she built herself up with her art from practically nothing. She reminded the class to incorporate what they love and to have fun in every part of their lives so that it will never feel like they are really working and to get the most out of their lives.
Written by Megan Hodge
---
Student Journal Highlights for this week
"I feel as though today turned out to be extremely successful.  After talking to some of the attendees I only heard good things from them. Of course there are also some little details that could have been sorted out but overall I say that the Experience was successful."

Aly Armstrong
Tuesday, March 13, 2018Learn More About Aly
"Jamie Stang's story was extremely interesting. Her drive and perseverance has got her to where she is at today."

Patrick Sherrod
Tuesday, March 13, 2018Learn More About Patrick
"I would like to just say that the CEO eXperience was a life changing event in all aspects. The preparation taught me lessons about hard work and determination. The day of taught me to just relax and soak in all the energy surrounding you. The days following taught me how to reflect better on things that are happening in your life. I am truly happy with how I performed and how my classmates and friends performed. I would not have traded my team for the world."

Patrick Tkachuk
Wednesday, March 14, 2018Learn More About Patrick
---