Giving Back to the Community
CEO Business Visits
---
Excellent Panel on the Importance of Giving Back to the Community
Arron Myers, Melissa Willenborg, Ron Mietzner, Alex Wright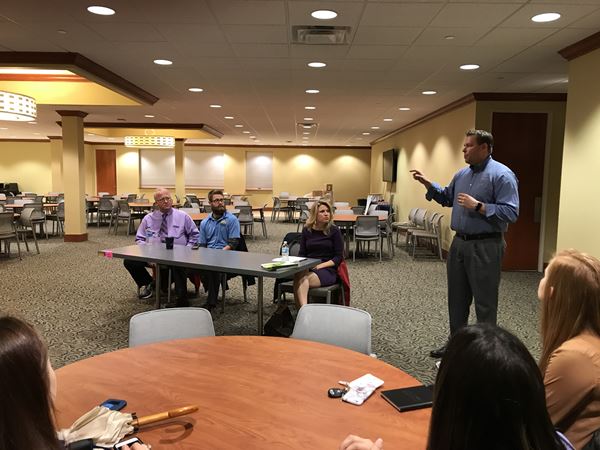 CEO students were inspired by a panel of amazing individuals that dedicate their time to helping our community. The panel included Ron Mietzner with American Cancer Society, Melissa Willenborg with 100+ Women Who Care, Aaron Myers with Harmony Playground, and Alex Wright with YBNext. Each of these people shared their stories of how they became involved with the volunteer organizations and spoke about how important it was to volunteer. 
All four people on the panel said a similar message, "Find what you have a passion for and work to create that passion into something to benefit our community." Whether it be building a playground, organizing events for cancer research and assistance, raising money for non-profit organizations, or growing the next generation of leaders, each of us can volunteer our time and efforts. By doing so, anyone, alike to the panel, has the ability to benefit our community.
Please come out and support YBNext and Effingham CEO on Monday, April 23rd as they join forces for a fundraiser at Joe's Pizza and Pasta from 5:00 - 8:00 PM.  We hope you will make your dinner plans with us.  
Written by Madison Magee
---
CEO Visited Gilmore Acres
Gilmore Acres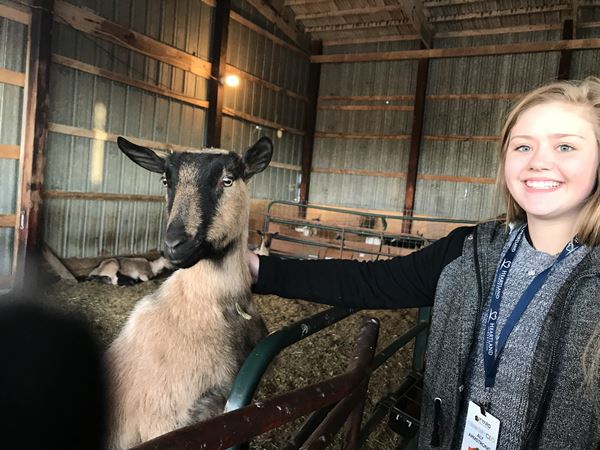 Goats, Cows, Lotion, and Soap. You may be wondering how all these might be related. At Gilmore Acres, CEO students had the opportunity to see first hand how Lynn Wolff and her family bring goats and soap together. With products ranging from mechanics scrub to, you guessed it, goat soap! From insurance to production, Lynn shared with us the risk management and production of her unique products.
Written by: Truman Rhodes
---
CEO Prepares For Their Trade Show Booth Design
Patty Greene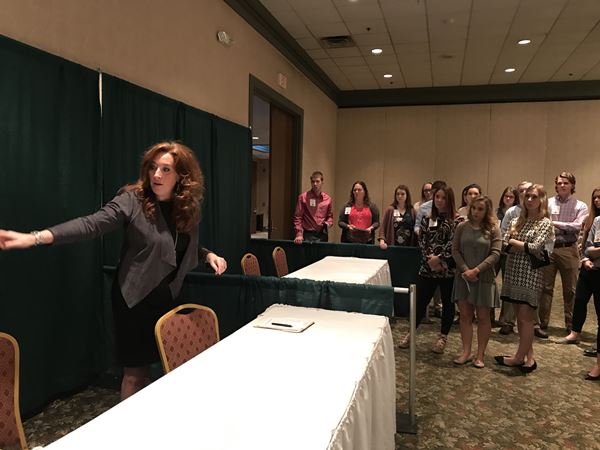 The CEO students had the privilege of meeting with Patty Greene to discuss Trade Show Booths. Patty Greene worked with the students to make them start thinking of what they are wanting their booths to look like. She allowed the students to see a demo booth set up. The students really enjoyed working with Patty Greene to start their plans for what their booths will look like at the Trade Show on Tuesday, May 1, 2018.
Written by Tiffany Gates
---
Student Journal Highlights for this week
"Wednesday really made me excited for the Trade show in a month. Then again, it's in a month, so I really need to get going on creating the items for my booth. Those two emotions are hard to mix. Patty Greene has really been helpful, though. She loves working with the CEO students, and we love working with her. I am glad someone like her is so involved with the program. I can't wait for the Tradeshow to be here!"

Claire Gardner
Tuesday, April 3, 2018Learn More About Claire
"It is exciting that the CEO Trade is coming up soon. It is kind of hard to believe that the journey is coming to an end, but it is exciting to be able to participate in the trade show. I have been to CEO Trade Shows in years past, and I have always thought about what my booth would look like. With the information we received on Wednesday, I am looking forward to beginning the process of preparing a booth."

Ryan Sandifer
Wednesday, April 4, 2018Learn More About Ryan
"The Community Give Back Panel was a great experience! I hadn't hear of YBNext or Harmony Playground. I think the idea of Harmony Playground is a great concept and am looking forward to having it in Effingham. I love the idea of anyone, no matter what is their disability for other playgrounds, being able to have a playground of their own."

Tiffany Gates
Wednesday, April 4, 2018Learn More About Tiffany
---