Great Attendance at the 2018 CEO Trade Show
---
2018 Trade Show Well Attended
Here are a few photos from the Trade Show. It has been an exciting year building up to the big day and seeing all the business ideas come to life. It is one thing to see your business plan on paper with a financial analysis of what you propose to build your business around. And another to see your product or service being viewed by others who see the benefit to pay for it. The learning along the way may not be seen by those who pass by each booth, but behind the scenes there have been tireless evenings and endless concerns just like all entrepreneurs feel about their business. This is real life with solid learning taking place from August to May.
Thanks again for all those who came out to enjoy the progress of the CEO Class of 2018.
---
CEO Award Winners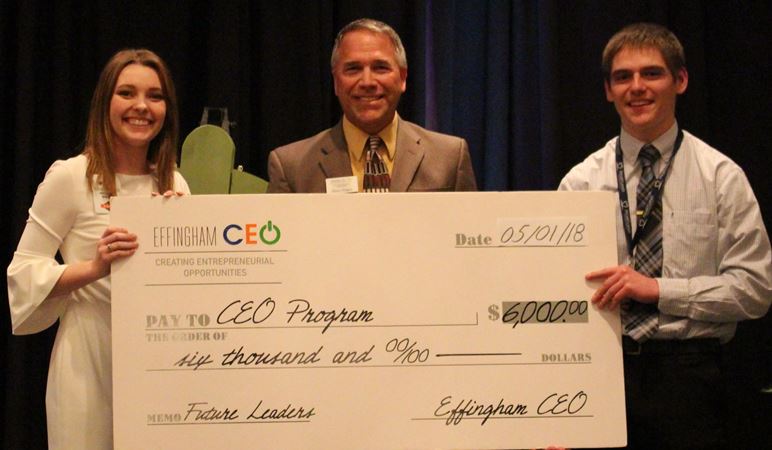 Steve Witges, CEO Chairman welcomed those in attendance at the Trade Show for the traditional award ceremony.  Pictured above is Madision Magee and Patrick Tkachuk presenting Steve Witges with $6,000 from the CEO Class of 2018 to be invested in next year's class. In this News Update we have also shared the words of those who nominated the class Entrepreneur of the Year and the personal words of the John H. Schultz Scholarship award winner.
The Entrepreneur of the Year is voted on by their CEO peers who they feel best express selfless leadership, humble, innovative thinking, & possess all the qualities of what you would expect from an Effingham County CEO student.
This year's winners are as follows with a personal note of what was mentioned by those who nominated them for this honor.
Mrs. Sayers' class award winner is Truman Rhodes
"Truman Rhodes has taken CEO to the next level. From day one, he has grown tremendously and is not afraid to ask questions. He strives to make everyone that walks through the door comfortable and welcome. He takes CEO very seriously, and is growing his personal business into more than just a 'one and done'. He deserves this more than anyone else in this class. He might not have had a 'lead role' in the experience, but he was always present to help with anything that needed done, no matter what committee it was for."  
Mrs. Teichmiller's class award winner is Avery Elder
"Avery Elder was the head of marketing for the CEO Experience and made all the visually appealing social media posts.  She was very dedicated and did an amazing job leading the marketing committee.  She is always willing to do what is necessary for the class and to say she goes the extra mile is an understatement.  She always asks good questions and does her best to engage those around her on tours and with guest speakers. She has also worked very hard on making her personal business successful. I think her hard work deserves recognition. I believe Avery should be Entrepreneur of the Year because she had a problem and solved it with an interesting business idea."
2018 John H. Schultz Scholarship –
The John H. Schultz, CEO Scholarship was created in memory of John H. Schultz, an Effingham area entrepreneur and businessman. It was created by the children of John and Fran Schultz and is a $1,000 annual scholarship. Emmie Schultz granddaughter of Mr. Schultz and CEO Alumni 2013 presented the scholarship to Patrick Tkachuk.
"Looking back on the entire year, I cannot believe the people that I have met and the places that I have gotten to see. I wish that I could graph my thoughts out for the entire year on what I want to do with my life. I started having an interest in accounting that then shifted to a career in finance that then shifted to a career in both that then shifted into a career in operations management that now sits at a career in finance and entrepreneurship. Another thing that has fluctuated all year is where I would like to end up. First, it was a constant battle between Madison, Wisconsin and Chicago, Illinois, but looking back on the year, I think that the winner one day will be Effingham, Illinois. I can't believe the kind of support and investment that the people of Effingham County have put into me this year. The investors in the class. My mentor. The board members. The facilitators. My teachers. Many others that I know I am forgetting and last but not least, the Schultz family. These experiences have all helped me realize how great it is to live here and know everyone. I would love to come back and make the same contribution to the county as they have in me." ~ Patrick Tkachuk  
---
2018 Began with Team Building and Ended With Teambuilding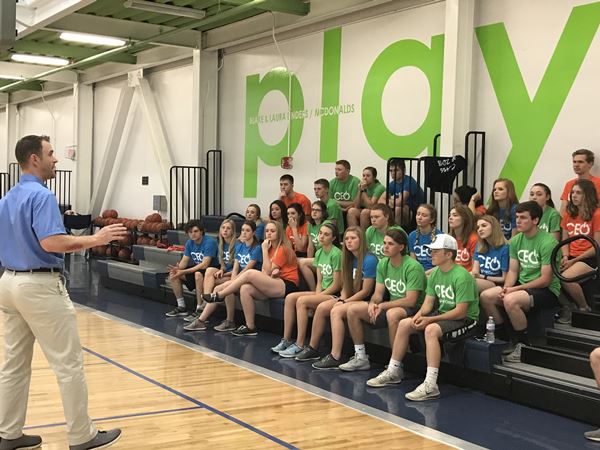 Noah Brandenburger and Keith Sutterfield, both CEO board members addressed the students on their last day of CEO with great advice that life is not a laser beam and that even the best made plans do not always work out, but excepting this and meeting each challenge head on is key. Keith, alumni coordinator (CEO Class Alumni 2010) encouraged the students to stay involved in CEO and that he hopes to see them at the Thanksgiving and Christmas Gatherings.
In the first week of CEO (August 25, 2017) the class went to American Obstacle for teambuilding and the facilitators felt it would be a great way to end the year as well. The students on their last day were much closer and had formed lasting relationships than the first go around back in August. It was great to see the competitive spirit and relaxed interaction along the students. It truly is a bitter sweet day of looking forward to the future, but knowing that this class has forever left a footprint upon their lives. CEO wishes the class of 2018 a life filled with an abundance of positive opportunities! That CEO does not end, but continues with a new view of business, life and personal growth.
---
YBNext Present Check from Joe's Pizza & Pasta Fundraiser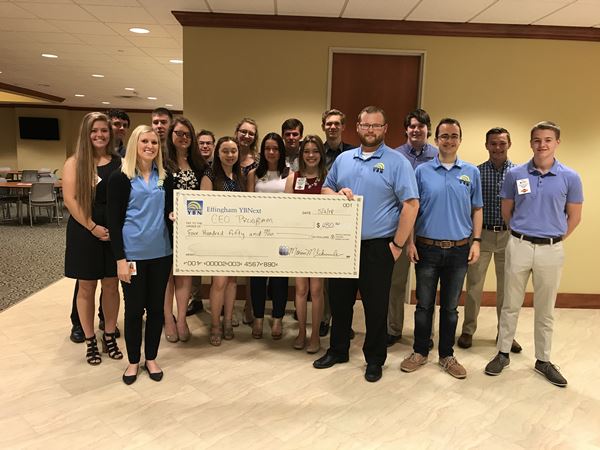 YBNext presented Effingham County CEO a check from their recent fundraiser held on April 23rd at Joe's Pizza & Pasta. The outcome was 20% of the sales and all tips were donated back from Joe's Pizza & Pasta to split between YBNext and CEO. A huge Thank You goes out to Joe's Pizza & Pasta for their generous giving and their support team in helping make the evening not only delicious but with great service too.
---
Meet the New Management Team at Martin's IGA
Randy Butler and Roger Myers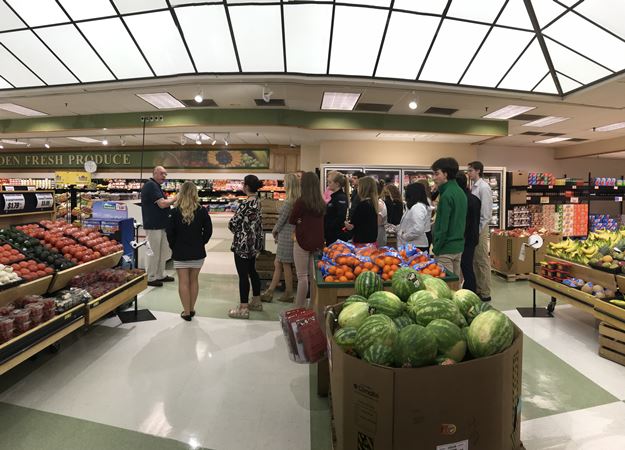 Our CEO students have grown up in the Martin's IGA store as their families have shop there as the "Hometown Proud" grocery store. This tour was unique from all our other tours since this was centered around a recent acquisition of Kirby Foods, Inc. out of Champaign recently.
Randy Butler who is with Kirby Foods shared all the recent changes and those to soon arrive, but one thing for sure they will not be revising any of their donut recipes. They go through 600 to 700 lbs. of dough a day since they sell over 9,000 donuts a month. Their mission is friendly customer service, freshness and quality.
Just as the Martin Family has been community centered, Kirby Foods feels the same. It was great to walk through the store and see the various changes taking place to better serve their customers. For one, they put in LED lighting and the shelves are already brighter. They opened the entrance area to the North so you can see straight back to the meat counter as you walk in. And in the produce area you can see all way through to the other side without any visual displays blocking your view. Just these small revisions are being made to make your shopping experience easier and more inviting.
This was the last tour for the CEO Class of 2018. Just like the store is going through many changes, the lives our students are as well. A new chapter awaits them with college ahead. Thank you to Martin's IGA for helping us end strong with an excellent tour. 
---
Student Journal Highlights for this week
---