The CEO Class of 2019 Begins August 21st
---
CEO Orientation for Incoming 2019 CEO Class
Steve Witges, Karen Etter, & Bill Fritcher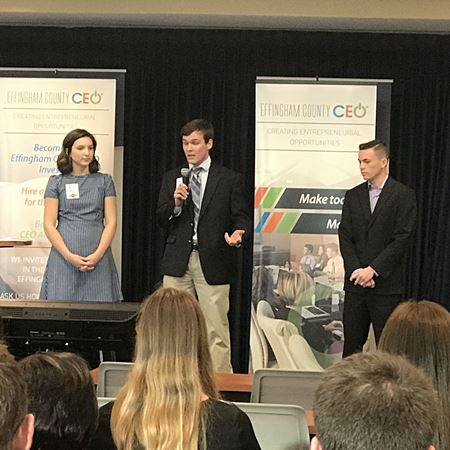 On April 25th, the CEO Board addressed the incoming 2019 CEO Class at Heartland Dental's training room. They were welcomed by Steve Witges, Board Chair where he shared the history and the importance of the CEO culture. Karen Etter then emphasized the dress code and why this is so important when making first impressions. Bill Fritcher also discussed travel expectations and keeping the various school administrators informed throughout the year.
As you know the program is funded by community business owners and individuals as the main stake holders. This year Wanda Pitcher, owner of Tuscan Hills Winery, provided her personal testimony as a parent of an alumni, mentor, ambassador, and investor in the program. It was beneficial that the incoming students have an understanding that the community is investing in their future and care about the results of their journey.
Also, it was wonderful to have Megan Hodge and Truman Rhodes speak on their recent experience from the 2018 CEO Class and CEO Alumni Braydan Bushue on how CEO prepared him for college and life. They could give a personal testimony that we are sure left a big impression on the incoming 2019 class and their parents.
The class was given a summer assignment to read Craig Lindvahl's book Things You Wish You Knew Yesterday, How to Wins Friends and Influence People- Dale Carnegie, QBQ Question Behind the Question- John G. Miller and a few more if they wish to start strong in CEO. A new handbook was also handed out to both parents and students this year, so everyone is aware of the expectations needed to succeed in this experience. 
It is with much anticipation that the CEO Family looks forward to welcoming the following students this Fall into the class:
Jacob Blanchette
Mikayla Blankenship
Kaitlyn Bloemer
Alexander Brandenburger
Nathan Budde
Megan Bushue
Nicole Deters
Ansh Dogra
Dylan Guy
Liam Hammer
Abby Hartke
Caralee  Hayes
Colby Heaton
Rachel Higgs
Keira Hirtzel
Elizabeth  Kelly
Donovan Kitten
Colin Koester
August Laatsch
Luke Ludwig
Ethan McWhorter
Sophia Moore
Allie Niebrugge
Julia Schmid
Grant Schmidt
Nathan Schultz
Joseph Siemer
Abby Stock
Andres Trevino
Hayden Voelker
Jenelle Vogt
Bryson  Wall
Becca Webster
Madison Westendorf
Elizabeth Will
Anthony Zaccari
---