Successful Week for Effingham County CEO
---
Effingham County CEO SETEDA Student Voice Top 5 Finalist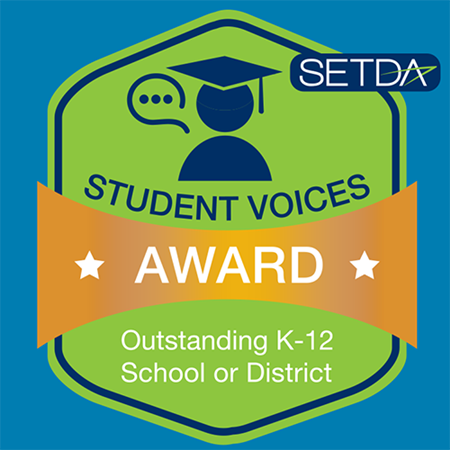 Effingham County CEO is a finalist in the State Educational Technology Directors Association Student Voices national award. The Student Voices award honors an outstanding K-12 school or district that has leveraged technology to dramatically improve the educational experiences and achievement of their students. Winners receive the Elsie Brumback Scholarship, which allows the winner to bring a team of students and educators to attend the annual SETDA Leadership Summit and tour Washington DC.
Top 5 finalists include:
Armorel High School EAST Program, Arkansas
Effingham County CEO Program, Illinois
Noblesville High School, Indiana
Meadow Park Middle School, Oregon
St. Albans City School, Vermont
The winner will be announced at the SETDA's Emerging Technologies Leadership Forum on June 23 in Chicago.  Effingham County CEO was nominated by Mindy Fiscus, Digital Access Coordinator Learning Technology Centers Illinois. 
Effingham County CEO Program, Illinois
Altamont, Beecher City, Dieterich, Effingham, St. Anthony and Teutopolis High Schools
The Effingham County CEO started a program that has rapidly grown across our state. The overwhelming impact on their community has encouraged surrounding areas to duplicate the program. Programs are designed as county-wide outreach and have joined high schools within counties, breaking down barriers and local competition to really have pride in the community as a whole. The impact on teaching and learning has been tremendous and has allowed local businesses to really connect with students and encourage them to find their inner potential. As part of the CEO Program, over a course of a year, students write two business plans they present to bankers and investors where they have professionals critique and provide sound advice on how to move forward with starting their business. The feedback from Banker Day then leads into presenting at Shark Tank Day where students pitch their business ideas and exhibit their products and services to gain insight to perfect their business before the Trade Show.
---
Avery Elder Experiences Sweet Smell of Success at CEONext Trade Show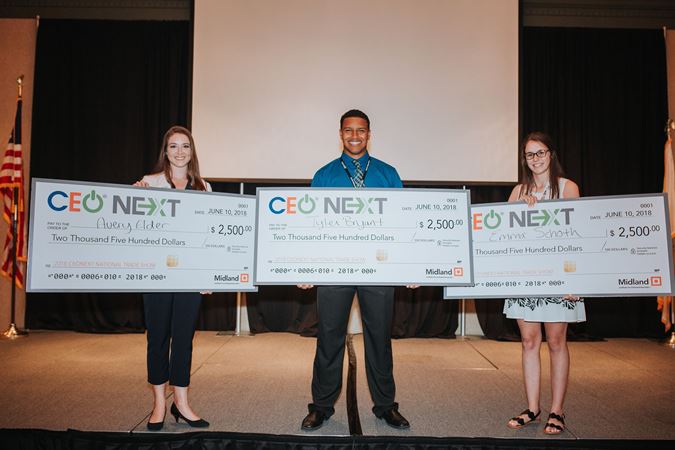 Avery Elder participated in the Midland Institute of Entrepreneurship CEONext National Trade Show, held on Sunday, June 10th at the Keller Convention Center. Avery's innovative shoe deodorizing company called  Nolor. This unique and natural shoe deodorizing product is designed to accommodate active lifestyles and smelly feet. By using a newly invented shoe hook design and a stylish bag, people of all ages can deodorize their shoes on the go in a visually pleasing way. 
Participants showcased innovative products and services developed as their personal businesses while participating in the Creating Entrepreneurial Opportunities program. The businesses selected represented sixteen communities throughout the CEO Network.  The National Trade Show was competitive with exhibitors vying for one of three $2,500 Awards of Excellence to invest back into their business.  Award winners included,  Avery Elder (Nolor: Smell No More) Effingham CEO, Tyler Byrant (Candles & Nothing More) Bond County CEO, & Emma Schoth (Drake's Toys) Land of Lincoln CEO.  Effingham CEO had two alumnus businesses exhibited at the Trade Show. Devin Aherin (2015):  Aherin Seed a retailer of cover-crop, forage and turf seed.  Sean Sandifer (2014) & Riley Pruemer (2015) Country Carved which creates high quality wood décor and products with a patriotic theme.
---