---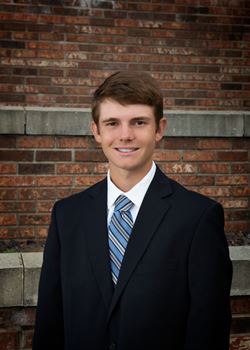 Luke Ludwig
About Me
Luke Ludwig is a senior at St. Anthony High School where he is involved in Catholic Athletes for Christ (CAC), Spanish club for two years, and history club. He also volunteers at the St. Anthony picnic and Catholic Charities. He has been on the varsity golf team for all four years and the varsity basketball team for three years. Over the summer he played in the US Junior Amateur golf tournament at Baltusrol Golf Club in New Jersey against the best juniors in the world. In his free time, he likes to spend time with friends and family and also play a lot of golf. After high school, he plans to sign with Southern Illinois University at Edwardsville (SIUE) for a golf scholarship and study either mechanical or civil engineering.
"I am very blessed to have the opportunity to be a part of CEO. It will give me the skills to have a jump start to be successful, not only in the business world but also in life. I look forward to making valuable business connections to assist me in my future career and cannot wait to see our class grow throughout the year in CEO."
Learn More about Luke
iPhone users: you can add the Effingham County CEO calendar to your phone!
Step 1
Copy this Url
Step 2
Open the "Settings" app
Step 3
Tap "Mail, Contacts, Calendars"
Step 4
Tap "Add Account"
Step 5
Tap "Other"
Step 6
Tap "Add Subscribed Calendar"
Step 7
Paste the link you copied from above.
Step 8
Click "Next"
Step 9
Click "Save"
You're Done
Now close the Settings app and open your calendar to see the Effingham County CEO calendar in your iPhone's calendar.